Below is a list of the cities/dates/times where the movie LITTLE PINK HOUSE will be screening. Please make sure to click on the link to the Facebook event to view the screening times for the city you're interested in.
And here is the trailer in case you missed the previous post. That's Aaron Douglas (playing the Governor) at the 00:16 and 00:21 time stamps.
MOVIE SYNOPSIS: Based on a true story, Little Pink House is about a small-town paramedic named Susette Kelo leaves a bad marriage, and starts over in a new town. She buys a rundown cottage with a gorgeous water view. She fixes it up and paints it pink. Then she discovers powerful politicians want to bulldoze her blue-collar neighborhood for the benefit of a multi-billion dollar corporation. With the help of a young lawyer named Scott Bullock, Susette emerges as the reluctant leader of her neighbors in an epic battle that goes all the way to the U.S. Supreme Court, inspires a nation, and helps millions of Americans protect their homes.
---
April 15, 2018
New London
Garde Arts Center
325 State St, New London, Connecticut 06320
---
April 20 – 26, 2018
Atlanta
Landmark Midtown Art Cinema
931 Monroe Drive Northeast, Atlanta, Georgia 30308
https://www.facebook.com/events/1797121270582170/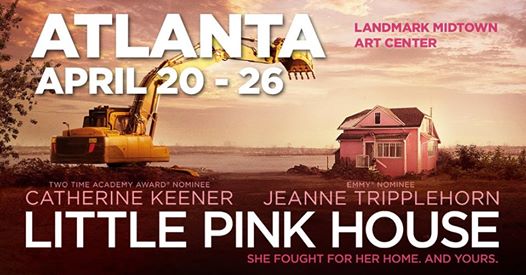 Berkeley
Landmark Shattuck Cinemas
2230 Shattuck Ave, Berkeley, California 94704
https://www.facebook.com/events/392015111271454/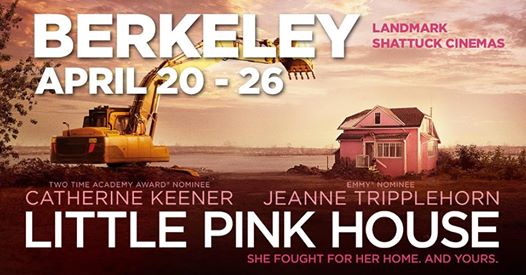 Irvine
Edwards Westpark 8
3735 Alton Pkwy, Irvine, California 92606
https://www.facebook.com/events/2083968921887048/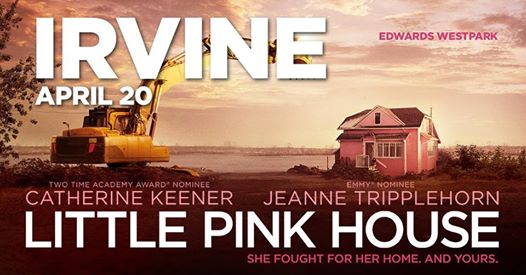 New York
AMC Empire 25
234 West 42nd Street, New York, New York 10036
AND
Village East Cinema
181-189 2nd Ave, New York, New York 10003
https://www.facebook.com/events/421254785000379/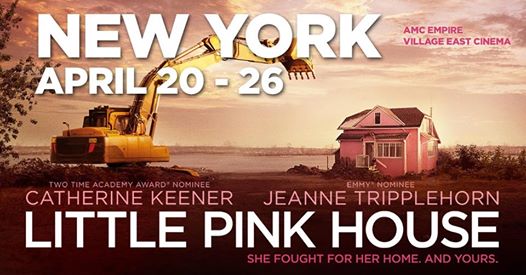 Pasadena
Laemmle Playhouse 7
673 East Colorado Blvd, Pasadena, California 91101
https://www.facebook.com/events/169630907000017/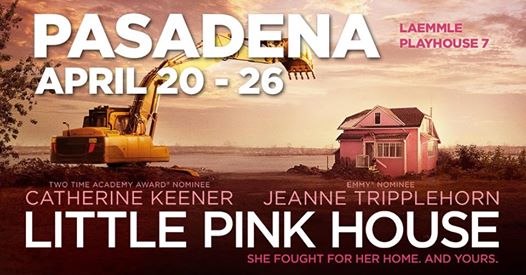 San Francisco
Landmark Opera Plaza Cinema
601 Van Ness Ave, San Francisco, California 94102
https://www.facebook.com/events/171239600201297/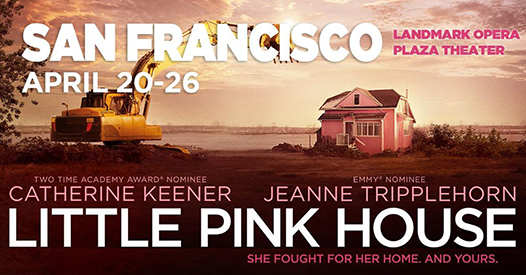 Santa Monica
Laemmle Monica Film Center
1332 2nd St, Santa Monica, California 90401
https://www.facebook.com/events/149904422346522/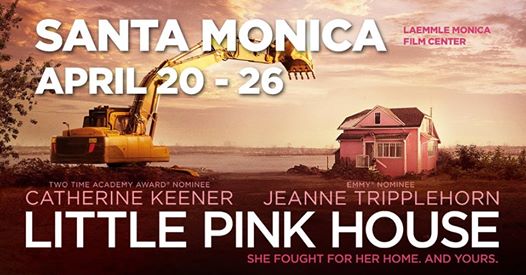 ---
April 23, 2018
Las Vegas
Regal Village Square Stadium 18
9400 W. Sahara Ave., Las Vegas, Nevada 89117
https://www.facebook.com/events/424225764703130/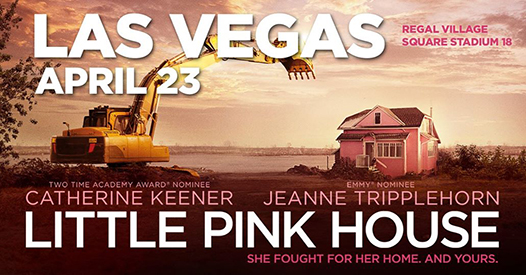 Prescott Valley
Harkins Prescott Valley 14
7302 Pav Way, Prescott Valley, Arizona 86314
---
April 25, 2018
Raleigh
Cinemark Raleigh Grande
4840 Grove Barton Rd, Raleigh, North Carolina 27613
https://www.facebook.com/events/209434753122672/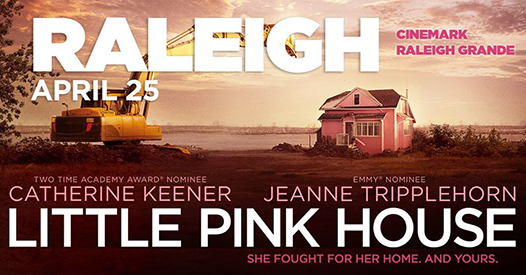 ---
April 26, 2018
Lexington
Lyric Theatre & Cultural Arts Center
300 East Third Street, Lexington, Kentucky 40508
https://www.facebook.com/events/1593722820744652/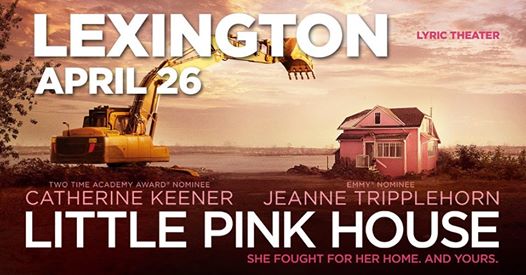 ---
April 27 – May 3, 2018
Hartford
Real Art Ways
56 Arbor St, Hartford, Connecticut 06106
https://www.facebook.com/events/348857475633452/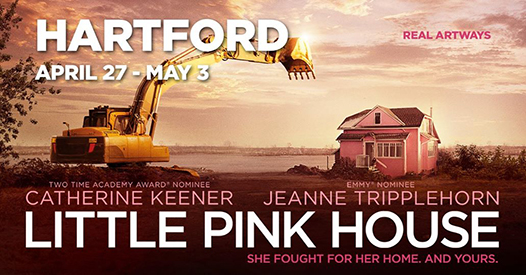 Minneapolis
details coming soon
Philadelphia
Landmark Ritz East Theatre
125 South Second Street, Philadelphia, Pennsylvania 19106
https://www.facebook.com/events/496377534097520/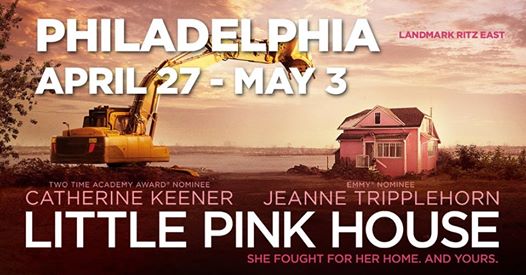 ---
May 1, 2018
Anchorage
Regal Tikahtnu Stadium 16 IMAX & RPX
1102 N Muldoon Rd, Anchorage, Alaska 99504
https://www.facebook.com/events/146865429463790/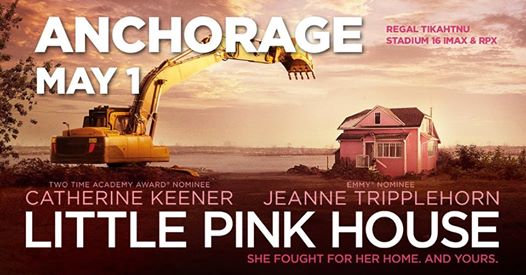 Durango
Gaslight Twin Cinema
102 E 5th St, Durango, Colorado 81303
---
May 4 – 10, 2018
Boston
Landmark Kendall Square Cinema
One Kendall Square at 355 Binney St, Cambridge, Massachusetts 02139
https://www.facebook.com/events/389884898088309/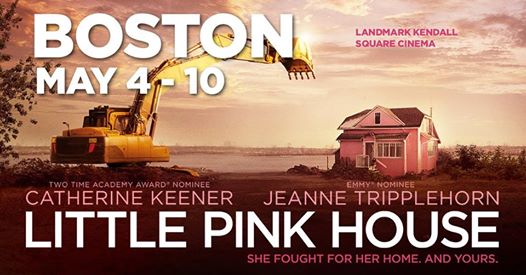 Denver
Landmark Chez Artiste Theatre
2800 S Colorado Blvd, Denver, Colorado 80222
https://www.facebook.com/events/258864871323431/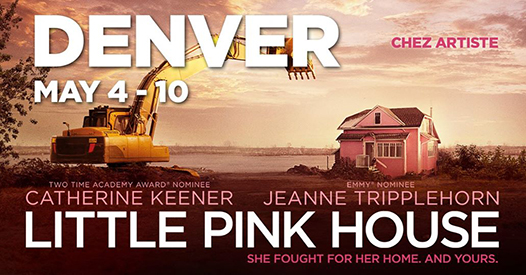 Niantic
Niantic Cinema
279 Main St, Niantic, Connecticut 06357
Rome
Cinema Capital
230 W. Dominick St, Rome, New York 13440
San Diego
Landmark Ken Cinema
4061 Adams Ave, San Diego, California 92116
https://www.facebook.com/events/219463558630445/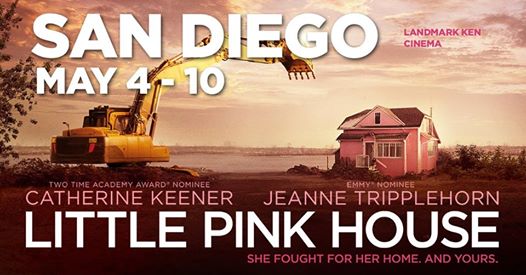 ---
May 5, 2018
New London
Garde Arts Center
325 State St, New London, Connecticut 06320
* Encore Screening
---
May 8, 2018
Mystic
Mystic Luxury Cinemas
27 Coogan Blvd, Mystic, Connecticut 06355
---
May 9, 2018
Winchester
Alamo Drafthouse Cinema
181 Kernstown Commons Blvd, Winchester, Virginia 22602
---
May 10, 2018
Hooksett
Cinemagic & IMAX in Hooksett
1226 Hooksett Road, Hooksett, New Hampshire 03106
https://www.facebook.com/events/207210333208424/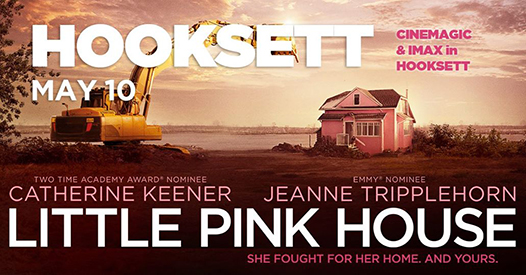 Round Rock
Cinemark 14
4401 N Interstate 35 Frontage Rd #3000, Round Rock, Texas 78664
https://www.facebook.com/events/212366632691620/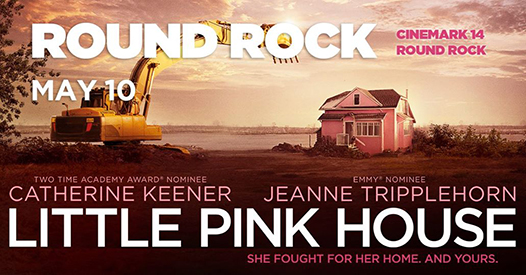 ---
May 11 – 17, 2018
Albuquerque
UA High Ridge 8
12921 Indian School Rd NE, Albuquerque, New Mexico 87112
Charlotte
details coming soon
Dallas
Landmark Magnolia Theatre
3699 McKinney Ave, Dallas, Texas 75204
https://www.facebook.com/events/1881479815227546/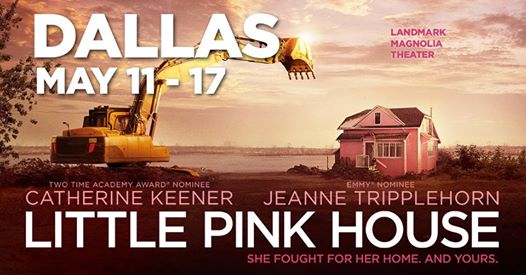 Phoenix
Harkins Shea 14
7354 E Shea Blvd, Scottsdale, Arizona 85260
Pittsburgh
AMC Waterfront 22
300 West Waterfront Drive, Homestead, Pennsylvania 15120
https://www.facebook.com/events/1896330333773351/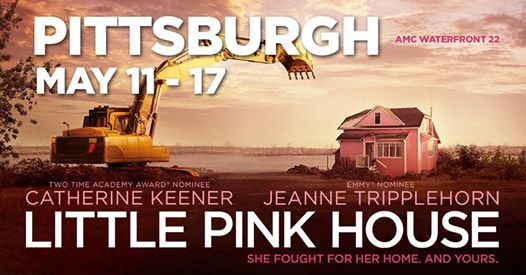 Portland
Regal Fox Tower Stadium 10
846 SW Park Ave, Portland, Oregon 97205
Sedona
Mary D. Fisher Theatre
2030 W State Route 89A, Sedona, Arizona 86336
https://www.facebook.com/events/1795241473831145/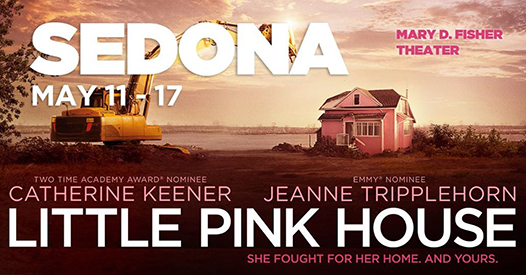 St Louis
Landmark Plaza Frontenac Cinema
1701 S Lindbergh Blvd # 210, St. Louis, Missouri 63131
---
May 15, 2018
Hamilton
AMC Hamilton 24 & IMAX
325 Sloan Ave, Hamilton Township, New Jersey 08619
Monterey
Cinemark Monterey 13
1700 Del Monte Center, Monterey, California 93940
---
May 17, 2018
Omaha
AMC Classic Westroads 14
10000 California St, Omaha, Nebraska 68114
---
May 18, 2018
Mesilla
Fountain Theatre
88046, 2469 Calle de Guadalupe, Mesilla, New Mexico 88046
Sedona
Mary D. Fisher Theatre
2030 W State Route 89A, Sedona, Arizona 86336
Fayetteville
Cameo Art House Theatre
225 Hay St, Fayetteville, North Carolina 28301
---
May 22, 2018
Torrington
AMC Classic Torrington 6
89 Farley Pl, Torrington, Connecticut 06790
---
May 23, 2018
Morristown
AMC Headquarters Plaza 10
72 Headquarters Plaza, Morristown, New Jersey 07960
Newport Beach
Edwards Big Newport 6
300 Newport Center Dr, Newport Beach, California 92660
Sacramento
The Tower Theatre
2508 Land Park Dr, Sacramento, California 95818
https://www.facebook.com/events/222423291861951/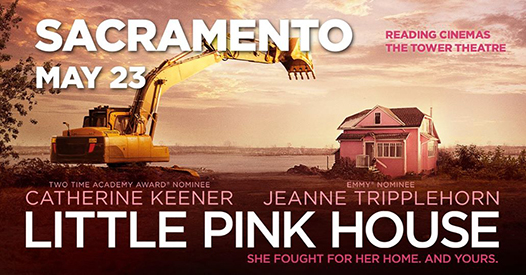 South Miami
AMC Sunset Place 24
5701 Sunset Drive, South Miami, Florida 33143
---
May 31, 2018
Tampa
AMC Classic Centro Ybor 10
1600 East 8th Ave, Tampa, Florida 33605
---
June 1 – 7, 2018
Austin
details coming soon
Washington DC
Landmark E Street Cinema
555 11th St NW, Washington, D.C. 20004
---
September 12, 2018
Brookfield
Marcus Majestic Cinema
770 North Springdale Rd, Brookfield, Wisconsin 53186
---
September 27, 2018
Norfolk
Cinemark 18 – Norfolk
880 N Military Hwy, Norfolk, Virginia 23502