Aaron's episode of THE X-FILES titled FOUNDER'S MUTATION will now be airing as episode 2, NOT episode 5 as previously reported. Episode 1005 is what was written on Aaron's script and call sheet. But the schedule on the OFFICIAL X-FILES WEBSITE, shows the episode FOUNDER'S MUTATION as episode 2 and IMDB has also been changed from episode 5 to 2.
So make sure to watch Aaron's episode of THE X-FILES airing on Monday, January 25th, 2016 at 8pm ET/PT on FOX in the USA and on CTV in Canada.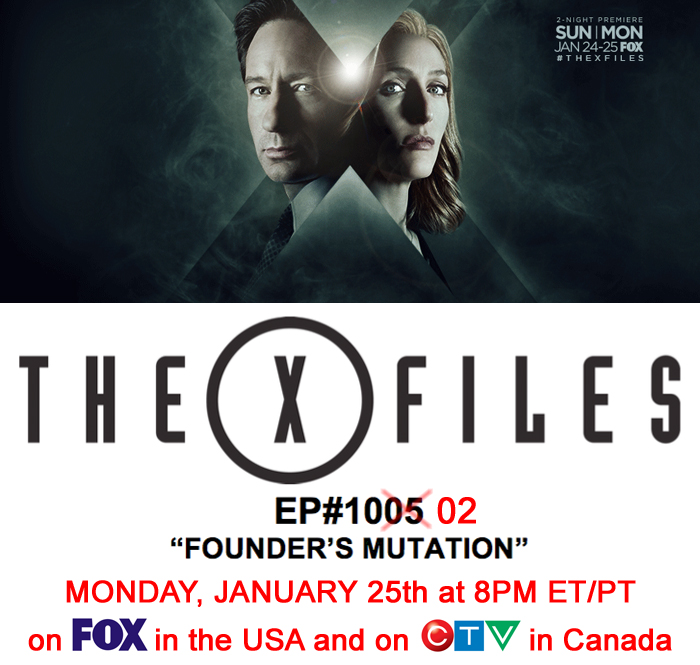 Episode Synopsis (short): When a scientist suddenly commits suicide, Mulder and Scully investigate what unseen force may have driven him to it.
Episode Synopsis (long): MULDER AND SCULLY INVESTIGATE A DOCTOR WITH UNSCRUPULOUS PRACTICES ON PART TWO OF THE ALL-NEW TWO-NIGHT SEASON PREMIERE OF "THE X-FILES" MONDAY, JANUARY 25, ON FOX

Doug Savant ("Desperate Housewives," "Melrose Place") Guest-Stars; Episode Written and Directed by James Wong

When a scientist suddenly commits suicide, Mulder and Scully investigate what unseen force may have driven him to it. What they uncover is a laboratory where extreme genetic experimentation has been going on for decades, breeding subjects who possess unexpected and dangerous powers – and who harbor deep resentments in the all-new "Founder's Mutation" Season Premiere, Part Two, episode of THE X-FILES airing Monday, Jan. 25 (8:00-9:00 PM ET/PT) on FOX. (XF-1005) (TV-14; D, L, S, V) CC-AD-HDTV 720p-Dolby Digital 5.1

Cast: Gillian Anderson as FBI Special Agent Dana Scully, David Duchovny as FBI Special Agent Fox Mulder and Mitch Pileggi as FBI Asst. Dir. Walter Skinner

Guest Cast: Doug Savant as Augustus Goldman, Jonathan Whitesell as Janitor, Rebecca Wisocky as Jackie Goldman, Chris Logan as Dr. Sanjay, Omari Newton as Rogers, Nikolai Witschl as Dr. Hill, Alison Wandzura as Cynthia, Aaron Douglas as Lindquist, Vik Sahay as Gupta, Ryan Robbins as Murphy, Christine Willes as Sister Mary, Kacey Rohl as Agnes, Craig March as Detective Gordon