I wonder if this means we'll see Aaron in a cameo in one of the remaining episodes of Season 3 of SHELF LIFE the Series or maybe Season 4 (???).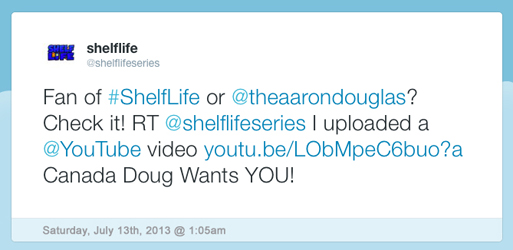 Shelf Life – Canada Doug Wants YOU!
YouTube: ShelfLifetheSeries
Published: July 13, 2012
Video Description: Here's a special Comic Con treat! Canada Doug asks for your support in our upcoming Season 4 IndieGoGo campaign which begins in less than a week (Starts July 18th). Why should you trust him? Well, he's Canadian, isn't he?
About SHELF LIFE the Series: A web comedy about four action figures on a young boy's shelf and no topic is off limits: sex, politics, gender, race, religion, and more from a pint sized perspective. Watch these toys, ahem – collectables, deal with big topics in their small way.
---
UPDATE (1): I found this very short behind-the-scenes video of Aaron on the tumblr page for SHELF LIFE. Hmmm, looks like he might be in Season 3.
Published: July 10, 2012
Video Description: This is just a fun little tease of an announcement we have in store if you join us for Shelf LIVE! (our interactive webcast party) on Wednesday, July 18th, 8pm PST on TheStream.tv/LIVE Frakkin' Canadian Cylons…
Source: SHELF LIFE the Series (tumblr)
---
UPDATE (2): That would be a YES to Aaron guest starring in Season 3 episode of SHELF LIFE. Below is a copy and paste from a press release…
Creators of 'Shelf Life Talk Guest Stars

PRLog (Press Release) – Jun 21, 2012: Shelf Life (http://www.ShelfLifeSeries.com) creators, and well-known voice-over actors, Tara Platt and Yuri Lowenthal, have announced the guest stars who will appear in Season 3 of Shelf Life, which premiered on June 12th. Joining their cast will be Phil Morris (from CW's "Smallville," "Seinfeld," and is currently the voice of Vandal Savage on "Justice League: Doom") and Aaron Douglas (from "Battlestar Galactica," "Hellcats," and "The Bridge").

Source: PRLog
---
UPDATE (3): And here is a snippet from interviews with SHELF LIFE creators and cast members Yuri Lowenthal and Tara Platt where they talk about Aaron.
Interview pt. 1: Shelf Life's Tara Platt & Yuri Lowenthal

By: Elizabeth Ann
Date: July 13, 2012
Source: Action Flick Chick

You've announced Aaron Douglas and Phil Morris as guests; can you talk a bit about who they'll be playing?

Yuri: Phil Morris- I don't want to give too much away on either side but Phil is basically playing our big bad in the season finale.

Tara: He was so much fun to work with.

Yuri: Such a giving guy. And… the only problem we had with Aaron was that he was so fucking funny that ya know, we just kept laughing the entire time we were shooting. How can we describe Aaron's character?

Tara: I don t want to give anything away! Um… Let's just say he's representative of where he's from.

Yuri: Let's just say we'll probably either pull a huge Canadian audience during his episode or we'll lose all of them. We're equal opportunity offenders.

Tara: Yes!
Tara Platt and Yuri Lowenthal Talk About Their SHELF LIFE Web Series

By: Dave Trumbore
Date: July 16, 2012
Source: Collider

The previous seasons of Shelf Life have featured the four of you, the four regulars, but you've had a couple of different guest stars come in here and there. I know you have some guest stars coming up in the next season. Would you guys like to talk about them and what we can expect from them?

Tara: Sure, we're really excited. This season, we actually have Phil Morris, who many people from his work on Smallville as Martian Manhunter and Seinfeld as Jackie Chiles, as well as his work in Black Dynamite and a number of other movies. He's coming on and he's sort of the big bad guy this season. He's in a two-episode arc at the end of the season which we're really, really excited about. He's just such a joy and a delight to work with. He's a consummate professional and amazing. We really all had a great time working with him.

Yuri: Yeah and the other one we're excited about is Aaron Douglas, who played Chief Tyrol in Battlestar Galactica. Who, also, we're huge fans of and it was such a joy to work with him. It's a wonder we got anything done.

Tara: We were laughing so hard.

Yuri: Yeah, we spent most of the time laughing. But we're excited to bring in more guests as we go, because I think that the way the show is going, we keep opening up the world bigger and bigger, it's inevitable that other people will creep in.